About the program
Master of Science (Veterinary Public Health) is a master's curriculum recently organized by Veterinary Public Health and Food Safety Centre for Asia Pacific (VPHCAP). The curriculum has been developed from core knowledge of the Master of Veterinary Public Health (MVPH) (International Program). The curriculum has been conducted by VPHCAP, Faculty of Veterinary Medicine, Chiang Mai University, Thailand for more than 15 years. The program aims to produce graduates from Asia countries to have all-round competency in Veterinary Public Health and create the network to control, prevent and resolve diseases caused by epidemic diseases, zoonoses and food hygiene, with an emphasis on quality control and safety of food from animal-origin along the food production including environmental hygiene at regional level. The curriculum encourages the student-centered atmosphere and concentrates on universal knowledge to resolve the problems in their own countries and region. The curriculum also emphasizes on students' local problem area to carry out research study which will be supervised by professors and experts from Thailand and other collaborative countries. The research strengthens students to practice systematic manner by using Veterinary Public Health discipline in order to further develop the new body of knowledge.
Objectives
The program is intended to produce high-quality graduate, who is able to:
Apply epidemiological approach to safety of food of animal-origin
Analyze and assess the risk of epidemic, zoonotic diseases, infectious diseases and understand the import goods condition and food hygiene
Have communication and interpersonal relations intellectual skill to control zoonotic diseases according to international practice
Apply the rules and international regulations of Veterinary Public Health with ethics and integrity, and capable to adjust with the dynamic world
Use Veterinary Public Health discipline to resolve regional problems
Overseas partners
Freie Universität Berlin, Germany
University of Minnesota, United States
Obihiro University of Agriculture and Veterinary Medicine, Japan
Study plan
(Coursework 24 credits + Thesis 12 credits)
Research interests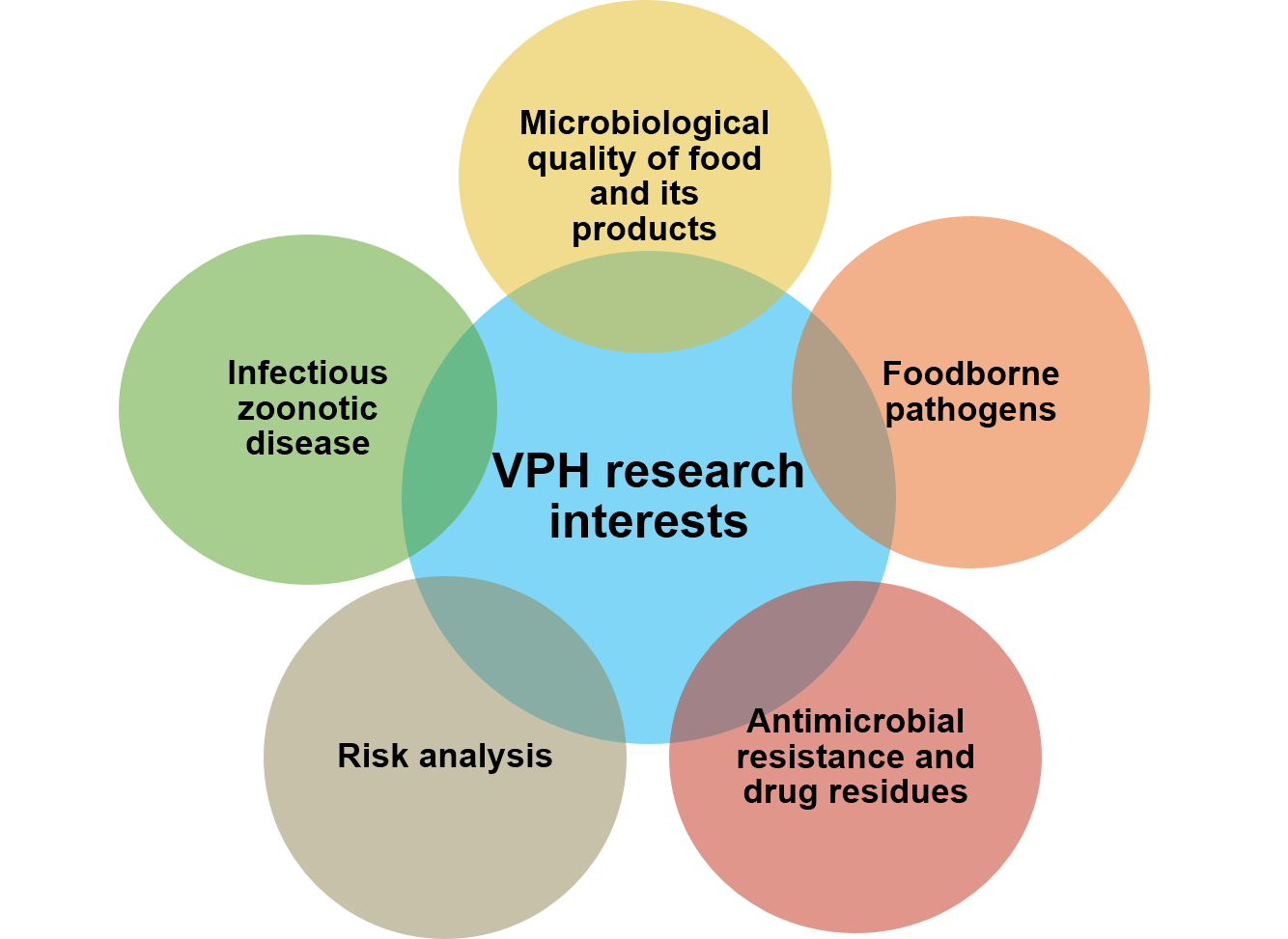 Veterinary Public Health discipline establishes ongoing research to resolve regional problems, particularly food safety and zoonotic issues based on different situations of students' home countries and their work experiences, such as microbio-logical quality of food and its products, infectious zoonotic disease, foodborne pathogens, risk analysis, antimicrobial resistance and drug residues, and so on.
Qualification of applicants
Eligible of education

Hold a bachelor's degree in Veterinary Science or equivalent
If applicant holds other bachelor's degree that relates to food hygiene, will be considered by administrative committee of Master of Veterinary Public Health curriculum.

English proficiency
Demonstrate official proof of English proficiency:

TOEFL (500 points for paper based, 173 points for computer based, 61 points for iBT) or
IELTS Band 5.5 or
The English Proficiency Examination of the Graduate School of Chiang Mai University score of at least 65

Other qualifications will be considered by administrative committee of Master of Veterinary Public Health curriculum.
Documents for admission

Two completed application forms
Two 1 inch, full-face photographs without accessories, less than 6 months old (affixed to the application form)
Two copies of the document certifying name or surname changing (if any), or document of marriage registration (females only), in case the name indicated in other document is not similar
Copy of transcripts

---

Applicants who have already graduated with a bachelor's degree must submit two copies of official transcript of bachelor's degree with rade point average (GPA).

Applicants who are studying in the last semester of the Academic Year 2020 must submit two copies of official transcript of bachelor's degree for all years to the last semester.

A copy of English test results obtained within last two years, such as TOEFL, IELTS, CMU-eTEGS (must)
Health certificate
Two copies of identity card/ passport
Two letters of recommendation
A letter of motivation
*For more information please contact vphcap@cmu.ac.th